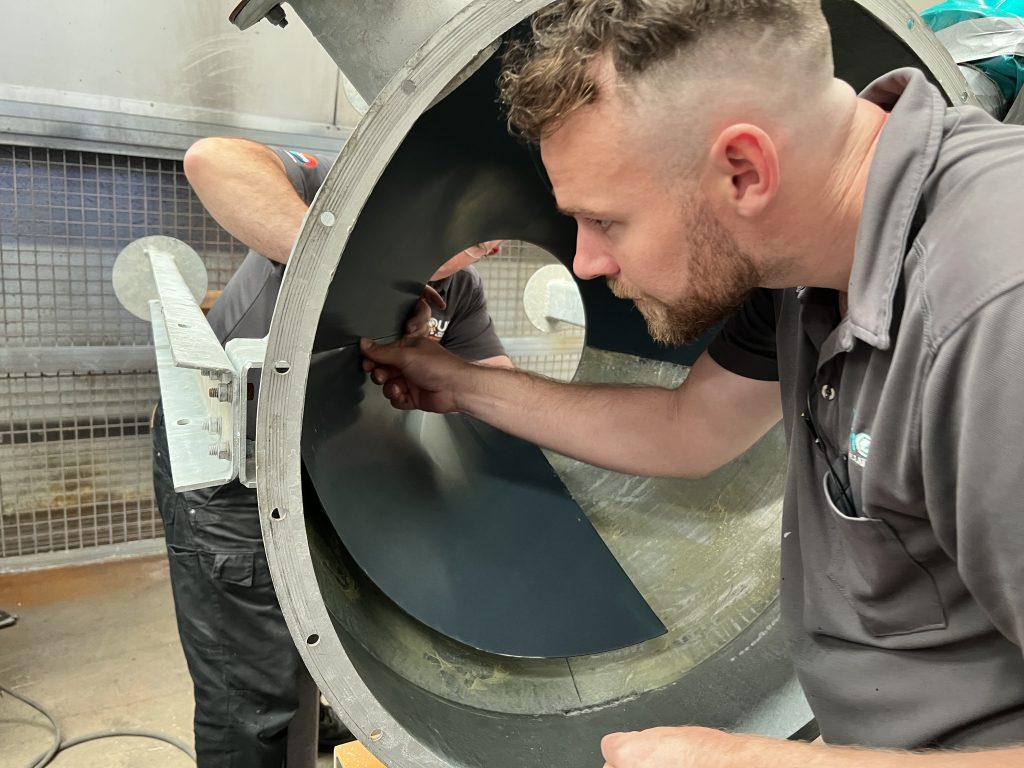 An Industrial chemical supplier based in Perth has a system whereby material is delivered by pneumatic transfer from a road tanker to their site-mounted horizontal silo which exhausts into a floor-mounted dust collector with a small hopper.
Problem
They had a problem with product build-up inside the dust collector hopper, product was sticking to the inside, resulting in servicing being required more frequently.
Calcium carbonate was sticking to the galvanised surface of a hopper. The issue was the hopper required frequent servicing, causing regular production stoppages and posed a potential OHS (Operational Healthy & Safety) problem.
Project Solution
After consulting with the customer, we suggested lining the hopper with UHMWPE K-Slip rather than painting or replacing it.
The hopper was cleaned, and the internal surfaces were roughened. Measurements were taken and computer designed templates were used to cut the k-slip to shape to ensure a perfect fit. A bonding agent was applied to the k-slip as well as a gap filler to keep the edges smooth.
A sealed bin kit was also supplied, allowing the hopper to empty into a separate container, increasing the available hopper capacity and improving its performance.
Outcome
The project was delivered in the morning to Techquip and was complete and ready to be collected the next day. The customer is happy with the work and confirmed it is working more efficiently.
📞 Contact our friendly team today.