Gearbox Repair & Overhaul
As well as the design and supply of gearboxes and drive assemblies, we provide gearbox repair & overhaul services in our workshop and onsite inspections to our customers.
We are agents and suppliers from many leading gearbox brands including:
Sumitomo, Rossi, Hansen, Bonfiglioli, Nord, SEW, Brevini, Transmital, Radicon, David Brown, Elecon, Yilmaz, JIE, Fenner, Transtenco, Motovario, GWA, Charles & Hunting, Renold, Dodge, Irontecno, Flender, Siemens, Watt, Rexnord, Falk, Textron, Comer, Morse, Hud City, Durst, Lenze, Rockwell, Seisa, Premium Transmission.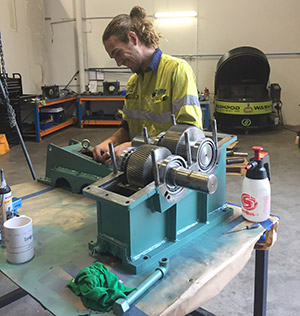 Initial Checking
Upon receipt at our premises, the gearbox is identified, booked, photographed and couplings or other attachments are removed. General condition of the drive is noted for our report, and end float and backlash are measured and recorded.
The gearbox is completely stripped, photographed, inspected and condition recorded. All shafts and gears are checked. All bearing details are recorded, and compared with OEM supply. Upon client acceptance of our quotation the gearbox then moves to the next stage of refurbishment.
Inspection Report
After a long service life, gearbox housings can be expected to be outside manufacturer's tolerances. For that reason, team conduct a complete dimensional check on the gearbox housing,:
Concentricity and parallelism of bores
Ovality of bores
Horizontal and vertical positioning of bores
Mounting face flatness on all planes
Joint Face Flatness
Damaged shafts can be machined, metal sprayed and ground back to required diameter and surface finish. We can retain an OEM specification or improve hardness and surface finish to provide longer service life.
Shaft Checking
All shafts are checked for dimensional accuracy, concentricity, ovality and straightness before being reused. This, when added to the crack detection, means that as our customer, you can be confident that these components are not being reused unless they are at least up to, if not exceeding, OEM specification for that particular application.
Gearbox Reassembly
Gears and shafts are re-assembled with new bearings fitted, backlash and end float are checked against OEM and bearing manufacturers specifications, and the results are recorded for your report.
Painting and Preparation for Dispatch
The Scope of Work agreed upon prior to work starting could also include the final painting of the gearbox prior to dispatch. We offer many painting options using in-house paint systems, plus we can cater for other systems should you require them. Please ask for details should you have specification requirements for painting.
Our warehouse will also prepare the goods for dispatch according to your requirements. Packaging, wrapping and different forms of protection can all be catered for by our Dispatch Division, even to the point of using our own transport services. That way, full control of your job is maintained right through until final delivery.
Contact us about Gearbox Repair & Overhaul